The All-New 2024 Alfa Romeo Tonale
Beautifully Distinctive
Named after one of Italy's highest mountain passes, the Tonale encapsulates the organic curvatures, bends and lines found in nature. Signature features like our V Scudetto Grille and available 20-inch five-hole wheels, echo the classic tenets of Alfa Romeo design—It's those time-honored details forged from our past, paired with elements of modern style and ingenuity that makes the Tonale one-of-a-kind.
KEY FEATURES:
– Custom build your Tonale: Starting at $42,995
– Includes:
   * V Scudetto Grille
   *  Adaptive LED Trilobo Headlights
   * LED Tail Lights
   * 20-Inch Five-Hole Wheels
   * 12.3-Inch Cannocchiale Digital Instrument Display
   * 10.25-Inch Multi-Touch Display
   * Heated and Ventilated Seats
   * Interior LED Lights
   * Forward Collision Warning with Full Stop
   * Driver Attention Alert
   *  Lanesense Lane Keep Assist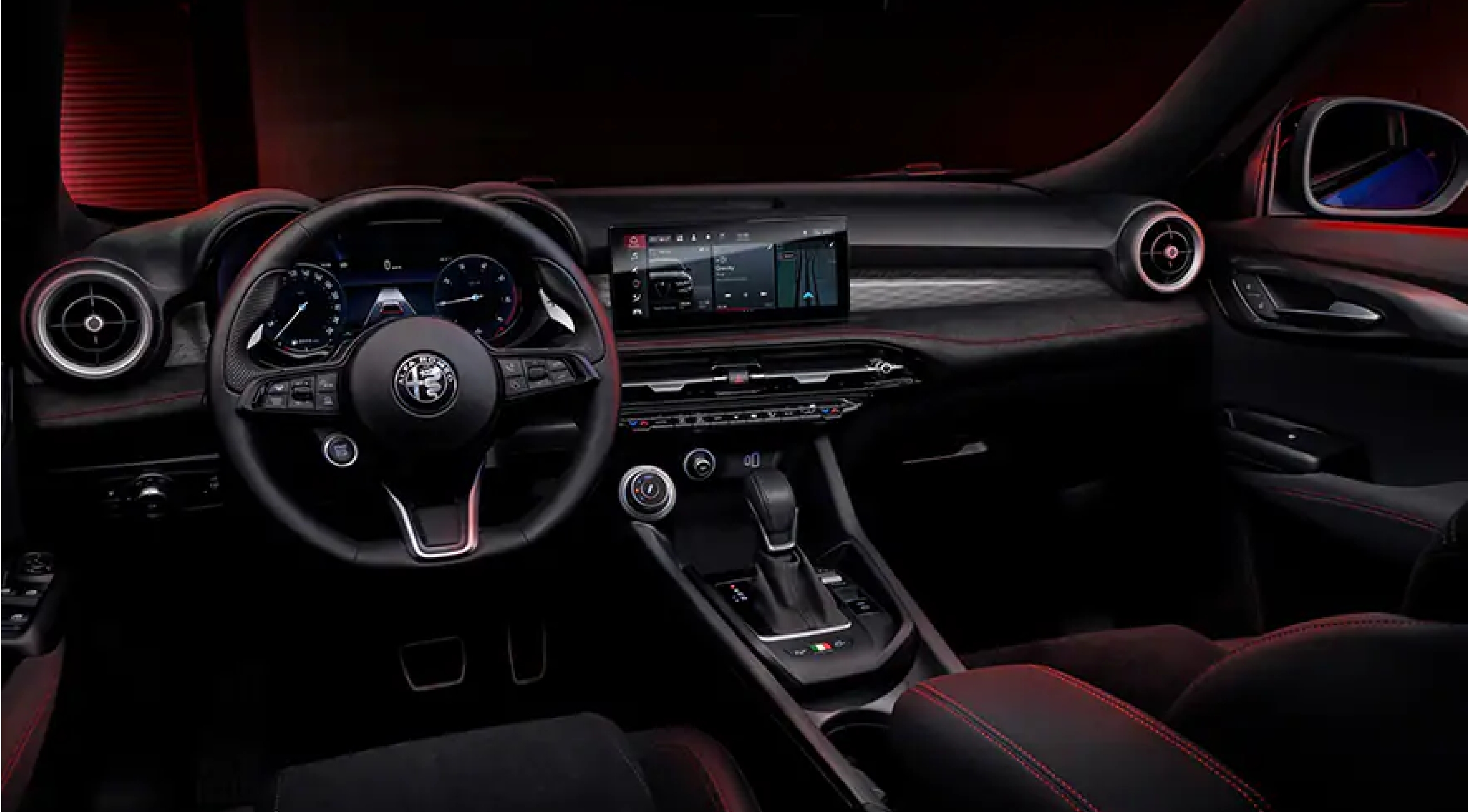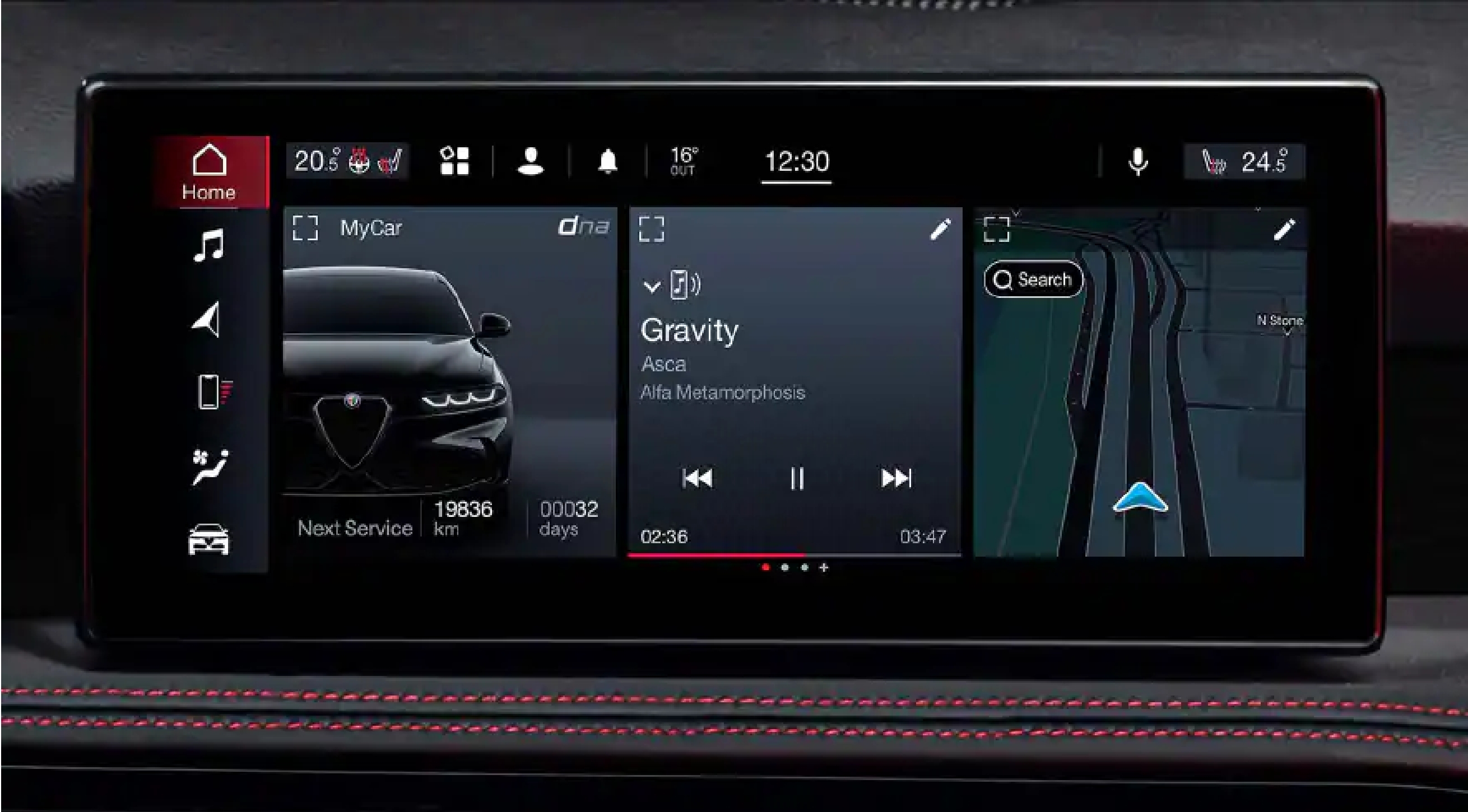 Elevate your driving experience with the breathtaking power and exquisite design of the All-New 2024 Alfa Romeo Tonale. This compact SUV is a true testament to Italian craftsmanship, combining cutting-edge technology, unparalleled performance, and captivating style.
Unleash the Power:
Feel the adrenaline surge as you take control of the All-New Tonale. Powered by a range of high-performance engines, including electrified options, this SUV delivers exhilarating power with every touch of the accelerator. Whether you're navigating city streets or embarking on an epic adventure, the Tonale ensures a dynamic driving experience that leaves an indelible impression.
Iconic Italian Design:
Prepare to turn heads wherever you go. The All-New Tonale boasts a sleek, aerodynamic silhouette that effortlessly blends classic Alfa Romeo heritage with contemporary style. From the signature "Scudetto" grille to the sculpted body lines, every detail is meticulously crafted to create a sense of timeless beauty. The Tonale's stunning exterior is matched by a refined interior that exudes luxury and comfort, ensuring you and your passengers travel in style.
Seamless Connectivity:
Stay connected and in control at all times with Alfa Romeo's advanced technology features. The All-New Tonale seamlessly integrates with your digital lifestyle, offering intuitive infotainment options and smart connectivity solutions. Whether it's accessing your favorite apps, making hands-free calls, or navigating through unknown territories, the Tonale keeps you effortlessly connected, so you can focus on enjoying the journey ahead.
Safety Above All:
Your safety is our top priority. The All-New Tonale comes equipped with an array of advanced safety features and driver-assistance systems to provide peace of mind on every drive. From intelligent collision avoidance to adaptive cruise control, the Tonale is designed to anticipate and respond to potential hazards, keeping you and your loved ones protected throughout your adventures.
Experience Pure Driving Passion:
At Alfa Romeo, we believe that driving is more than just getting from point A to point B—it's a thrilling journey that ignites the senses and stirs the soul. With the All-New 2024 Alfa Romeo Tonale, you'll experience pure driving passion like never before. Immerse yourself in the perfect harmony of performance, design, and technology, and discover a new level of automotive excellence.
Be among the first to experience the All-New 2024 Alfa Romeo Tonale. Sign up now for updates and reserve your spot to unlock the extraordinary. Elevate your driving to new heights with Alfa Romeo.